Bioactive dmog (dimethyloxalylglycine)
Chinese Name: dimethyloxalylglycine; Dimethylglyoxylamidoacetic acid; Dimethylglyoxylamidoacetic acid, > 98%; Hi-F prolyl hydroxylase inhibitor (dmog), CAS 89464-63-1, is a new drug α- Ketoglutarate is an antagonist of cofactor and an inhibitor of HIF prolyl hydroxylase α HIF-1 protein is stable and accumulated in nucleus α It's an agonist. Dmog can increase autophagy.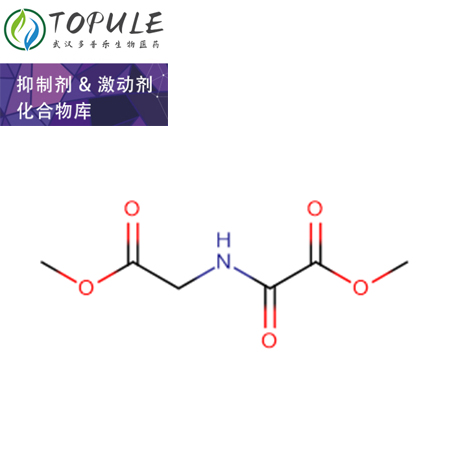 In vitro study
Dmog had low activity in microsomal system, but strongly inhibited hydroxyproline synthesis in intact cells. In HPASMC, dmog decreased FGF-2-induced tissue and Cyclina expression by inhibiting prolyl hydroxylase.
In vivo research
Dmog inhibits the inactivation of endogenous HIF and induces angiogenesis in skeletal muscle of mice with local ischemia. In hyperlipidemic rats, hypoxia inducible factor 1A up-regulated by dmog can enhance the cardioprotective effect of ischemic postconditioning.
At present, scientists are studying the effects of dimethylacetylglycine (dmog) pretreatment on the biological characteristics of exosomes derived from bone marrow mesenchymal stem cells (MSc) in myocardial protection mechanism. Objective to isolate and identify exosomes derived from mesenchymal stem cells, and compare the effects of exosomes (exodmog) secreted by MSCs pretreated with dmog and exosomes (exo) from MSCs pretreated with dmog on myocardial protection, angiogenesis of endothelial cells and anti apoptosis of cardiomyocytes after myocardial infarction in mice.
Results the exo some secreted by MSCs pretreated with dmog significantly improved the cardiac function and prolonged the survival time of mice after myocardial infarction. In vitro, MSCs had the ability of promoting angiogenesis and protecting cardiomyocytes. The expression level of mir-210 in exosome pretreated with dmog increased significantly. In vitro, mir-210 mimics transfected into recipient cells had similar biological effects as exodmog; In vivo experiments showed that the addition of mir-210 inhibitor (antioxidant-210) significantly weakened the effect of exodmog on angiogenesis and myocardial protection. Conclusion after dmog pretreatment, MSCs derived exosomes have better angiogenesis and myocardial protection, which may play a biological role through mir-210.
Wuhan Duopule biomedical Co., Ltd. has been committed to the research of antagonists for a long time, and there are abundant varieties of small molecule inhibitors in stock. Dopple reagent, pay tribute to global scientific research! Looking forward to becoming your research assistant!